FRIDAY, MAY 11TH 2018
CrossFit Fannin – CrossFit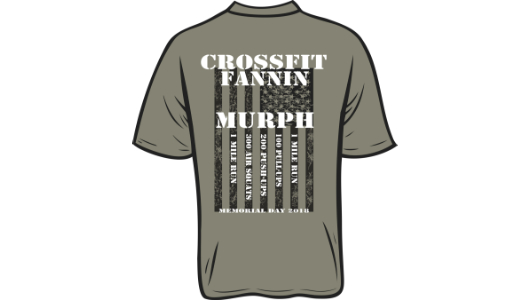 REVISED SHIRT DESIGN WITH WOD NAME……COST OF SHIRT IS $25 ALL PROCEEDS GO TO EQUIPMENT FUND!!!
Warm-up
3 ROUNDS OF:

100 METER RUN

10 PVC PASS THRUS

5 INCHWORMS
Metcon (8 Rounds for time)
8 ROUNDS EACH FOR TIME OF:

150 METER RUN

15 ABMAT SITUPS

10 STRICT HSPU
*EACH ROUND IS FOR TIME. REST AS NEEDED BTW ROUNDS. TRY TO MAKE YOUR TIMES AS CONSISTENT AS POSSIBLE. ONCE YOU HAVE RESTED 2/3 MINUTES YOU WILL GO ON YOUR OWN. FOR EXAMPLE ROUND ONE I FINISH AT 2:30 THEN I REST TILL 5 MINUTES THEN MY NEW START TIME IS 5 MINUTES SO IF I FINISH ROUND TWO AT 8:15 THE. MY SECOND ROUND TIME WOULD BE 3:15 ETC
SCALES:

STRICT HSPU-KIPPING HSPU-BOX HSPU (MAKE SURE YOUR HANDS ARE STACKED UNDER YOUR SHOULDERS SHOULDN'T BE OUT IN FRONT)-:30 HANDSTAND HOLD, – OR 20 PUSHUPS
CLINIC:
AFTER SPEAKING WITH MUTE SPORTS ABOUT A JUMP ROPE CLINIC IT LOOKS LIKE MAY 19TH WILL BE THE ONLY TIME AVAILABLE FOR THE SUMMER. IF YOUR WANTING TO IMPROVE ON YOUR JUMP ROPE SKILLS THIS WILL DEF. BE OF BENEFIT TO YOU.

COST: $20 MEMBERS

$40 NON-MEMBERS

PLAN ON THE CLINIC LASTING ABOUT 1 1/2 HOURS STARTING AT 9:45.

**ALL PROCEEDS OF ALL CLINICS GOES TO EQUIPMENT FUNDS!!!
SIGN UPS WILL BE ON THE WHITEBOARD.