THURSDAY, JANUARY 18TH 2018
CrossFit Fannin – CrossFit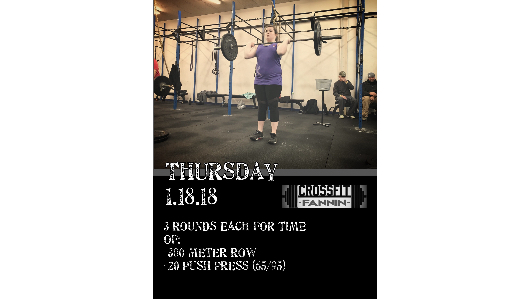 No 5:30 am the rest of the day will be on regular schedule!!
Clean and Jerk (1 X 1 )
SPEND A FULL 20 MINUTES ON THE SKILL.

JERK CAN BE A SPLIT JERK
IF NOT CLEAN GO POWERCLEAN AND JERK
Metcon (3 Rounds for time)
3 ROUNDS EACH FOR TIME OF:

-300 METER ROW

-20 PUSH PRESS (65/95)
*ABSOLUTELY NO REBEND ON PP

*THIS SHOULD BE A SPRINT.
CASH-OUT
HSPU PRACTICE SESSION

OR

10-1 HSPU CYCLE WITH A PARTNER