MONDAY, MAY 1ST 2017
CrossFit Fannin – CrossFit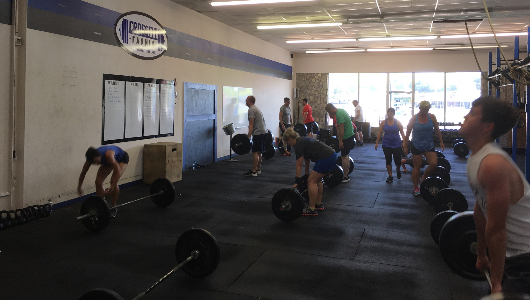 Paused Front Squat (5 X 2)
EACH SET INCREASING WEIGHT. EACH SQUAT PAUSE FULL 2 SECONDS AT BOTTOM OF SQUAT.

-REALLY DRIVE OUT OF YOUR HEELS WHEN COMING OUT OF THE HOLE.

-LAST MONDAY DID A 5 X 2 HEAVY DOUBLE SO YOU SHOULD BE COMPARABLE WITH THAT ON YOUR PAUSE DOUBLE.
Metcon (Time)
3 Rounds:

10 Front Squats (95/135) (125/185)

20 PULLUPS (RX+ CTB)

40 DOUBLE UNDERS
CASH-OUT
BAR LADDER:

PULLUPS/CTB/MUSCLE UP/TTB
*SET A NUMBER 3-10 AND YOU AND A PARTNER COMPLETE:

1-1

2-2

3-3

2-2

1-1

FOR EXAMPLE YOU MUST GO UP THE LADDER AND BACK DOWN. SET A GOOD NUMBER FOR MORE OF A CHALLEGE HAVE A BREAK PENALTY.